Giant COVID Survey Findings #2
Work, Work, and the Future of Work
Hello and welcome to the next set of results from the Giant COVID survey!
If you'd like a recap of survey details and results so far, check out our first summary on the built environment. 
Today's topic is work, work, and the future of work.
How has COVID affected workers' views?
As we mentioned last time, 12% of our respondents stopped working between January 2020 and the time they filled in the survey--between April 22 and May 22, 2020. However, 71% were still working at the time they responded to the survey.
For those still working, many reported that their view of their employer has become more positive since the start of COVID (perhaps because they still have a job?). Nearly 47% reported feeling more positive about their employer, while only 18% reported feeling more negative (the rest reported unchanged views). 
Given that most respondents have jobs that are not deemed 'essential', we wonder if this may correspond to the people that have been told that they are able to work from home indefinitely. In line with this idea, those who reported feeling more positive about their employer tended to work in technology, banking & financial services, and education & training -- industries that were working remotely this spring.
What's ahead for jobs?
Perhaps due to a re-evaluation of life goals and priorities, some people plan on using the next year to look for a new job -- 37% of respondents believe they will start a new job before June 2021. That number was much higher for those who are currently unemployed, rising to 59%. 
For those who currently have a job, what are their reasons for striking out into the unknown in this harsh economic climate? Most frequently, those who plan to leave their current job before June 2021 plan to do so to switch roles (38%), to switch industries (34%), or to start their own business (14%). Big moves ahead! 
What industries will do well during and after COVID?
We asked each person to predict how COVID would affect opportunities in their line of work. Nearly half believed there would be fewer opportunities for work after COVID, 28% believed there would be no change in opportunities, and only 24% believed there would be more opportunities for work after COVID. 
Who are the people who believe more opportunities are coming their way? Most frequently, it was those in consulting & strategy and technology industries. With crisis comes opportunity, and people are ready to roll up their sleeves and respond to the new challenges of our time.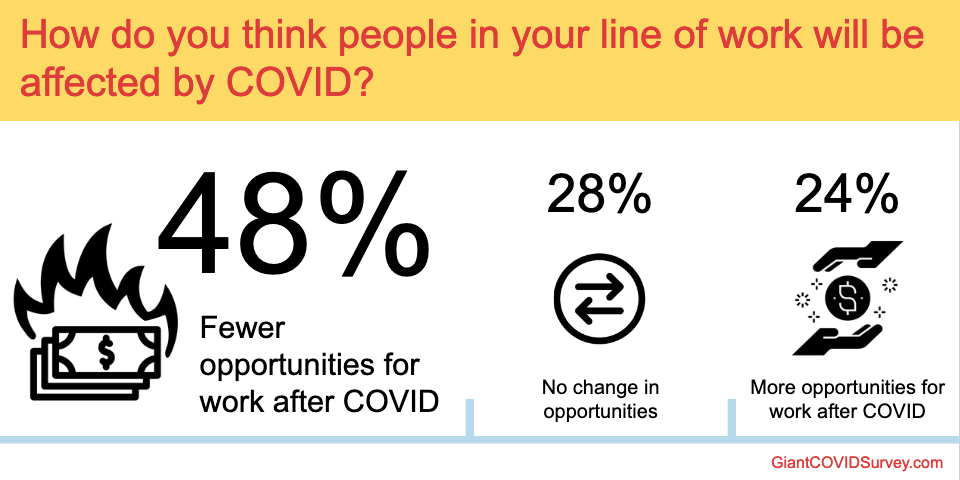 What industry will do well before the end of COVID? Tech was our respondents' clear front-runner with nearly half of the vote. Healthcare, food & beverage, manufacturing & transport, and banking & financial services rounded out the top 5. Almost no one (in fact, only one person) bet on retail as the COVID front-runner.
The lack of optimism for retail makes sense in light of what experts are predicting to be "a thunderstorm of bankruptcies in retail ... about to rain down on Wall Street thanks to the aftershock of the coronavirus." You can check out the timeline of retail bankruptcies to date below.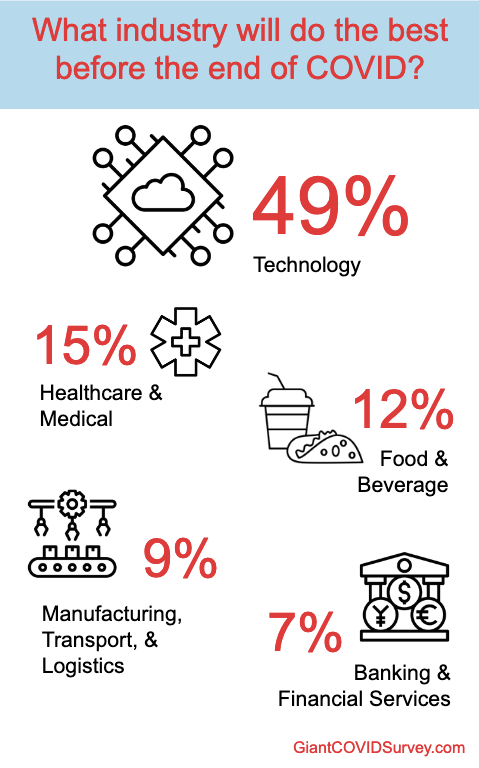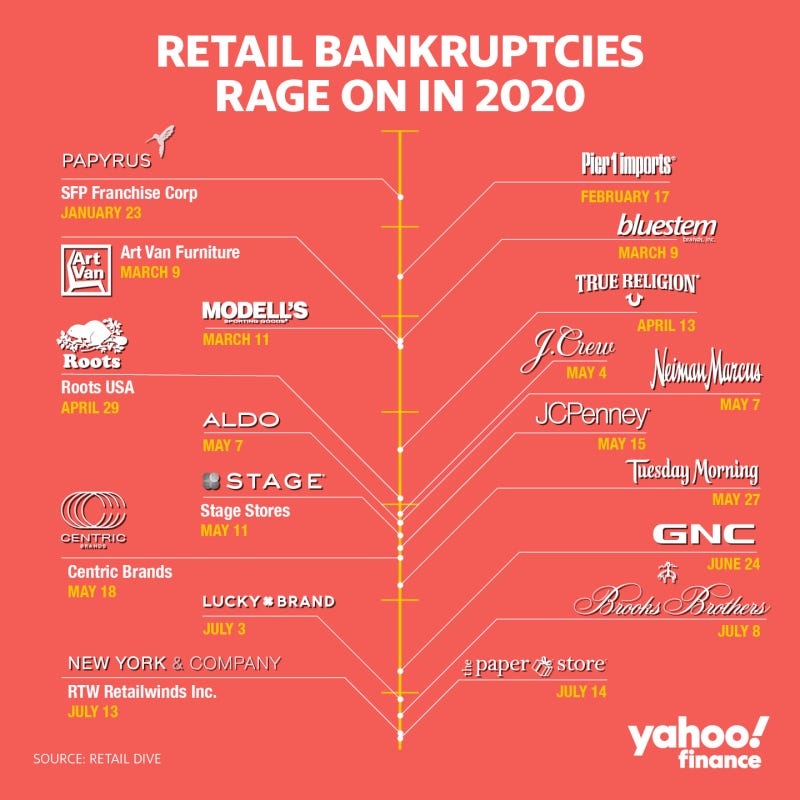 Image source. Tracking large retail bankruptcies since the start of the COVID crisis.
It's worth noting that each of the projected leading industries--technology, healthcare, food & beverage, and manufacturing & logistics--have a subset of roles known as 'green jobs.' These green jobs will remain a focus and may continue to be prioritized, as economies look to investment opportunities that are 'future-proofed.' A recent study by the UN Economic Commission for Europe found that the greening of the transport industry alone could result in an additional 15 million jobs worldwide. 
Tech on deck
Within our sample of respondents, tech was the most frequently represented industry, with 18% of respondents. It turns out that the only people more bullish on tech than the general public were tech workers themselves. Among tech workers, 69% predicted that tech would be the industry that would do best before the end of COVID.
Respondents don't just think tech will do better coming out of COVID, they also think about the tech industry more favorably. Three times as many respondents have a more favorable view of the tech industry since the start of COVID as compared to the number of respondents with a less favorable view of the industry.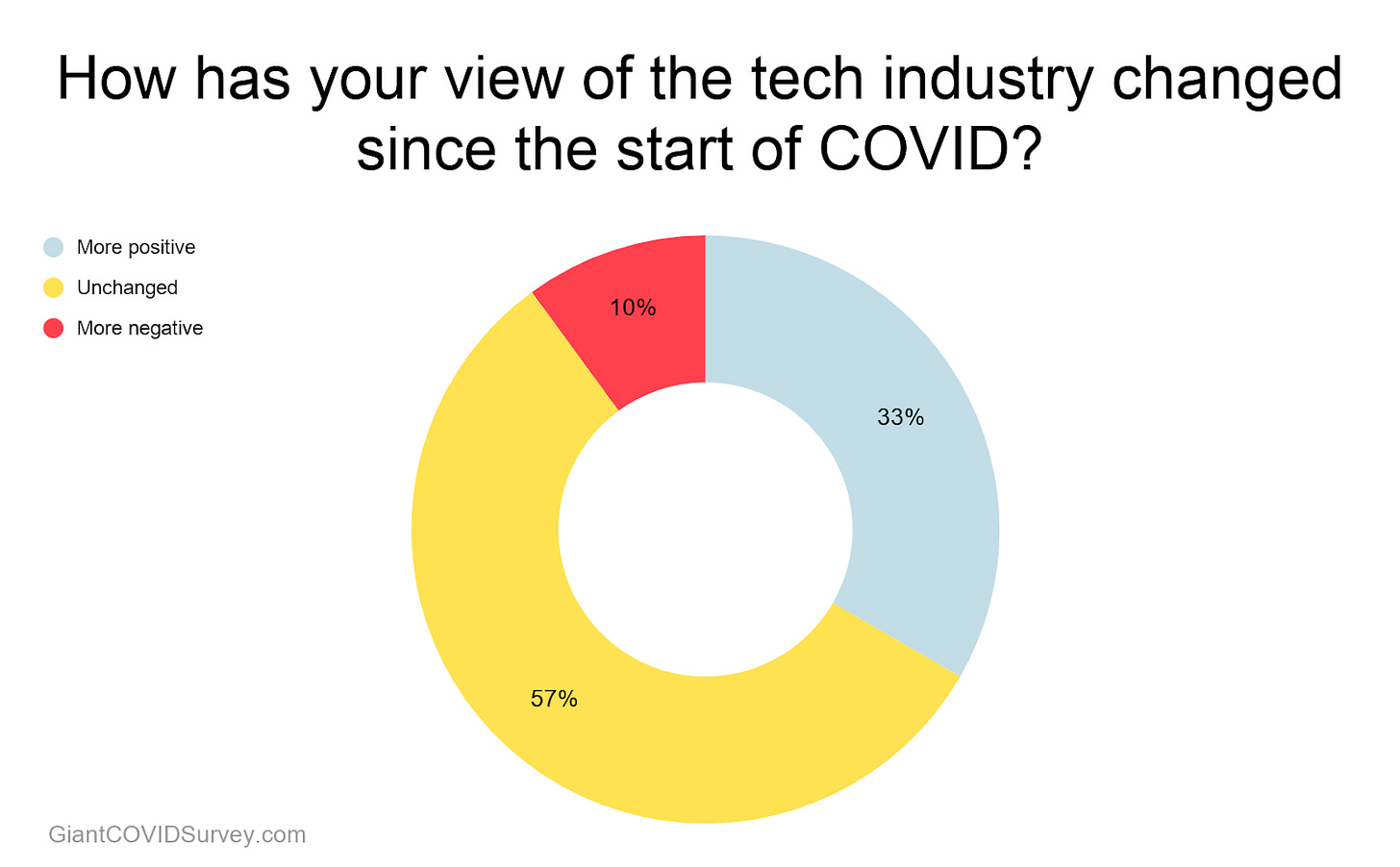 Perhaps this has something to do with our increased reliance on tech to order groceries, talk to our loved ones, and do just about anything else?
We dug into the software that has recently been helping us to work… and more.
From a list of thirteen popular software products, respondents were asked to select which ones they've used since the start of COVID, which ones they value, and which ones they plan on using after COVID. For the most part, people planned on continuing to use software they use and value now. 
Zoom was the clear winner all-around. Around a quarter of respondents have used it since the start of COVID, value it, and plan on using it after COVID. Next up were Facetime, Slack, and Google Hangouts/Meet. The future is bleakest for the of-the-moment group video chatting service Houseparty -- while people use and value it now, they do not plan on using it after COVID.

Large-scale economic predictions
We asked respondents to make some big bets on the future of the economy. They had a somewhat bleak view.
Nearly half of respondents do not think that we will return to pre-COVID U.S. unemployment rates of 3.5% until after 2023… if ever. 
Those who were currently employed were slightly more pessimistic than those who weren't: only 40% of unemployed respondents believed it would take until after 2023, while 50% of employed respondents believed the same. Perhaps it's because those who are not working have more to gain from unemployment numbers going down.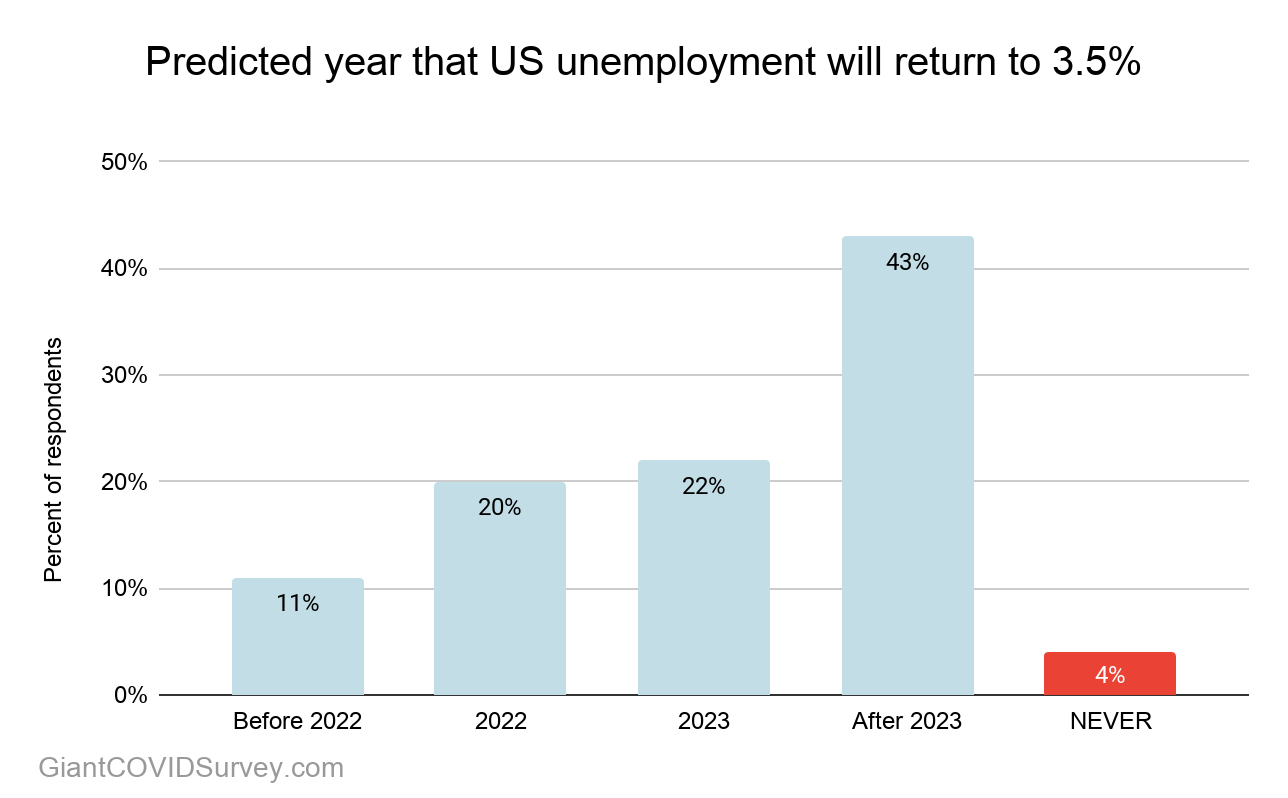 In the U.S., 51 million have filed for unemployment benefits since the start of the COVID crisis. Last month's (June 2020) unemployment rate was 11.1%, down from 13.3% in May. 
But experts agree with our respondents: a drop to 3.5% isn't happening anytime soon. In fact, a 10-year economic report released this month by the Congressional Budget Office predicts that by 2030, the unemployment rate will only be down to 4.4%.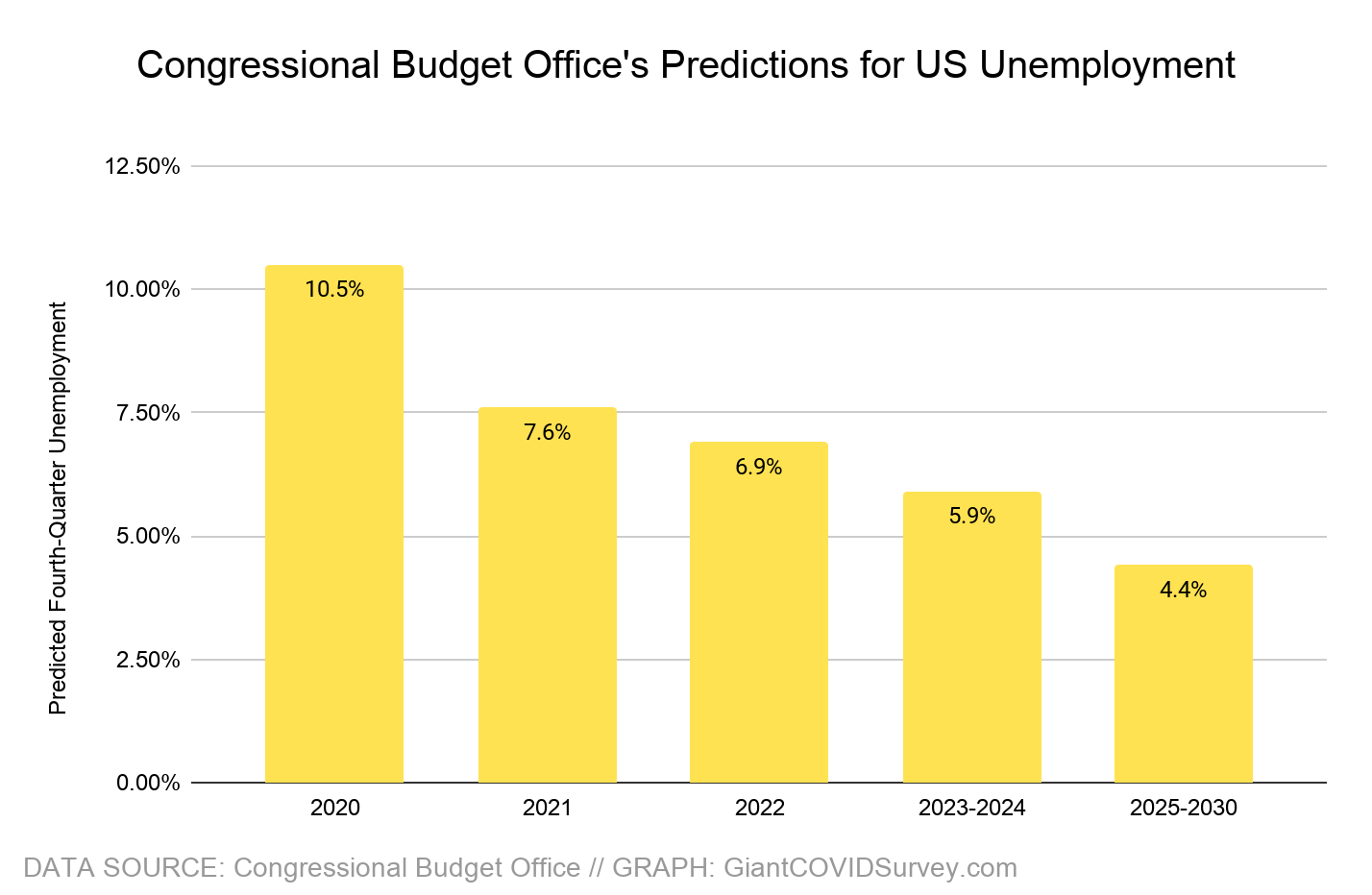 We also asked respondents to guess the year and month that the S&P 500 will exceed its February 19, 2020 peak of 3,386. 
Nearly everyone guessed dates before the end of 2025, with only a few people guessing later dates. The latest? December 2037.
We are already getting close, with the S&P above 3,200 the past week and at least one expert predicting a rally to nearly 3,500 in the next few weeks. 
Meanwhile, the most frequent guesses from our respondents were February 2021 and January 2022. You heard it here first.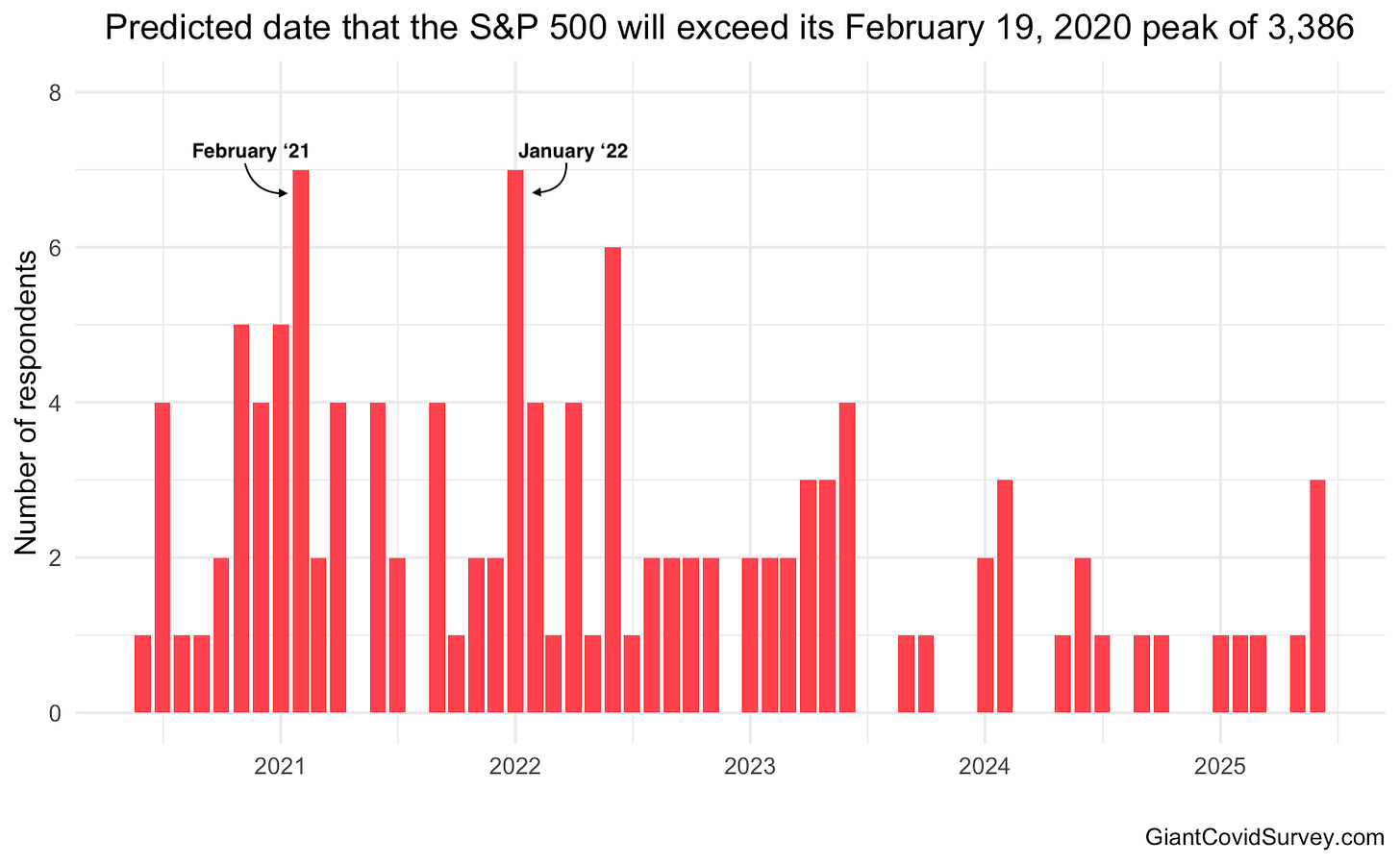 That's it on work! If you enjoyed these GiantCOVIDSurvey results and want to share them with friends, family, or colleagues, send them to:
See you soon,
Anja, Kristen, and Packy