Giant COVID Survey First Findings
New Teammate + Three Things We've Learned So Far + A Call to Share
Hello Giant Survey Takers!
Thank you so much for taking the Giant COVID Survey, and for subscribing to follow along as we release the results and findings. We are a little over a week from closing the survey and beginning to analyze the results. We want to give you an update, share some early findings, and ask for your help.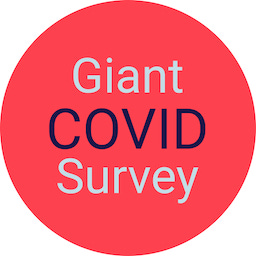 Update
Kristen Fulmer has joined our team! Kristen, like Anja and Packy, is a recent refugee from the world of flexible office. She was recently at WeWork, on their Global Sustainability Team, where she translated internal sustainability goals to manage enterprise clients' design, construction, and operation. 
Kristen is a sustainability expert by profession, but a dot-connector by passion. Her goal is to bridge partnerships and convert data into recommendations that will catalyze sustainable action and maximize positive impact. Find out more about her work to effect positive change with Recipric. She will work with us on data analysis and summarizing our results.
Some Early Findings
We haven't done a complete analysis yet, but we wanted to share three things that have surprised us so far: 
Will there be a suburban migration as a result of COVID? Our survey respondents were split in their predictions, but with a narrow lead, 57% believed there will not be a noticeable migration out of cities within the next 5 years

Long hair don't care! 70% of respondents haven't cut their hair since the start of COVID

Bye office, hello offices? Only 19% of respondents think that former office workers will go back to working entirely in an office after COVID. Instead, 61% believe that office workers will work in more than one location, either primarily based at home or at an office
We can't wait to see what other surprising, fun, and actionable insights we uncover! 
Our Ask
We are just a little over 100 responses short of our goal of 1,000 responses, and we need your help to get there! With all of us on this e-mail, it should be pretty easy. Here are a few ways you can share that we have found most effective. 
Text the link to a friend with a quick message, like "Hey friend! I just took this Giant COVID Survey (https://www.giantcovidsurvey.com/). It was surprisingly fun and easy, and I'm really curious to see the results. You should take it - the more people, the better the data."

Share on social: Tweet, post to Facebook or LinkedIn, share on Reddit - wherever you hang out online, there are thousands of people we would love to hear from. Share a link to the survey with a personal message about why you're interested in the results and ask for others to join you in taking it. 

Post to your family chats, communities, or company Slacks. We are all part of a family, a community, or a company that is spending more time than ever chatting online. Drop the link to the survey in the group chat or Slack with a message about why the results will be relevant to your group. 
More people responding means more, and more diverse, data. More data means more reliable results. More reliable results mean that we all learn more about what the world might look like post-COVID, which we hope will inform innovation, catalyze new business creation, and serve as a useful snapshot of this weird time.
Thanks for participating and sharing! We look forward to sharing the results with you soon. 
Anja, Kristen, and Packy