Giant COVID Survey Results #1
The Built Environment
Hello and welcome to the results of the Giant COVID survey!
A few months ago, we set out to create the biggest, most wide-ranging survey to document the impact of COVID on our everyday lives. And thanks to your help, we collected a lot, and we mean a LOT of wide-ranging data. We're excited to share what we found with you all.
To make the results user-friendly and avoid information overload, we've split up the findings into different themes. Today, we'll kick it off by explaining how we collected data and who participated and then dive into a topic many have been thinking, writing, and opining about: how will COVID shape our physical world? What aspects of our homes, workspaces, public spaces, streets, and cities will change for now, and for good? 
How we ran the survey
We recruited a convenience sample through email, social media, listservs, and a study participant website. 
Respondents filled in 10 demographic questions followed by up to 40 questions randomly selected from a large pool. We collected data for one month, between April 22 and May 22, 2020.
Who participated?
In the month the survey was open, 479 people filled in the demographic questions and at least some of the following 40 questions. 
Most respondents came from the U.S. , with smaller groups from Canada and the U.K., and the rest from other countries. Within the U.S., the largest concentration of respondents was from around New York City.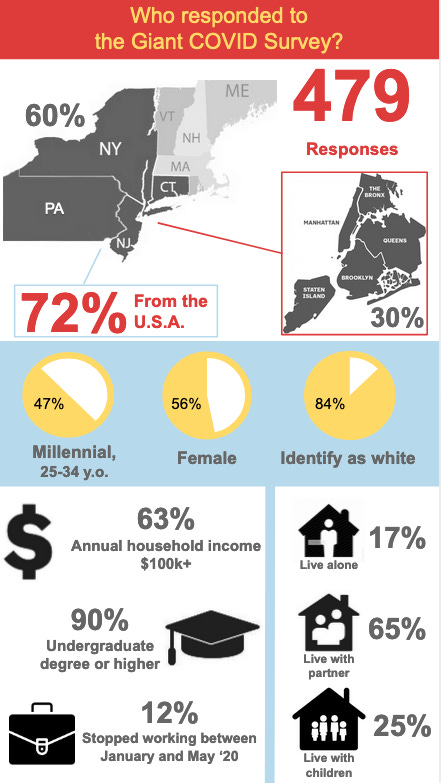 The respondents were mostly Millennials (people born between 1981 to 1996), and were most likely to identify as White or Asian. Slightly more of the respondents identified as female than male. 
Respondents were well-educated andhad high incomes: 63% reported annual household incomes of one hundred thousand dollars or more, as compared to 25% in the U.S. population.
In January 2020, 63% of the respondents were employed full-time, and another 22% had freelance or seasonal work or were business owners. Respondents most frequently worked in technology (18%), education and training (9%), real estate and property (8%), consulting and strategy (8%), or banking and financial services (7%) industries.
At the time of their responses, most respondents' overall work situations were unchanged: 68% of respondents worked in January and continued to work, and another 12% were not working in January or when they responded to the survey. However, 12% who had worked in January had stopped working by April or May, and only 3% had started working after not working in January.
Even if still working (or not), people reported unexpected work changes. For example, freelance work was delayed or cancelled, a respondent was laid off right after starting a new job, and one unlucky person had to ask to stay at a job they had already quit after a new job offer was rescinded.
Most respondents were living with others at the time they took the survey. Most frequently, respondents were living with a partner and/or with children. 
How is our built environment going to change?
We asked people a series of questions about how our built environment - the physical world in which we live - is going to change. Our big takeaway is that the days of living in a small city apartment and taking the subway to one office every day are over. That change might manifest in a few different ways - keeping the small apartment but walking to a nearby co-working space instead of riding the subway to HQ, moving to a suburb and driving into the office when necessary, or migrating from the city to the country and working fully remotely. 
In any scenario, it seems almost certain that one COVID trend is here to stay: the 48% of respondents who wore real pants fewer than 30 times in the first two months of COVID will be able to continue giving their legs that work-from-home freedom. 
The age of many workplaces is here.
People think the days of the office are over. People were asked where pre-COVID office workers with similar jobs after COVID are likely to work. Less than a fifth of respondents believed workers would continue full-time at an office. Most respondents believed that former office workers will soon work in more than one location -- either primarily based at home with occasional office time or primarily based at an office while working at more than one location. More rarely, respondents  believed former office workers would now work entirely at home or would move into coworking or flex office spaces.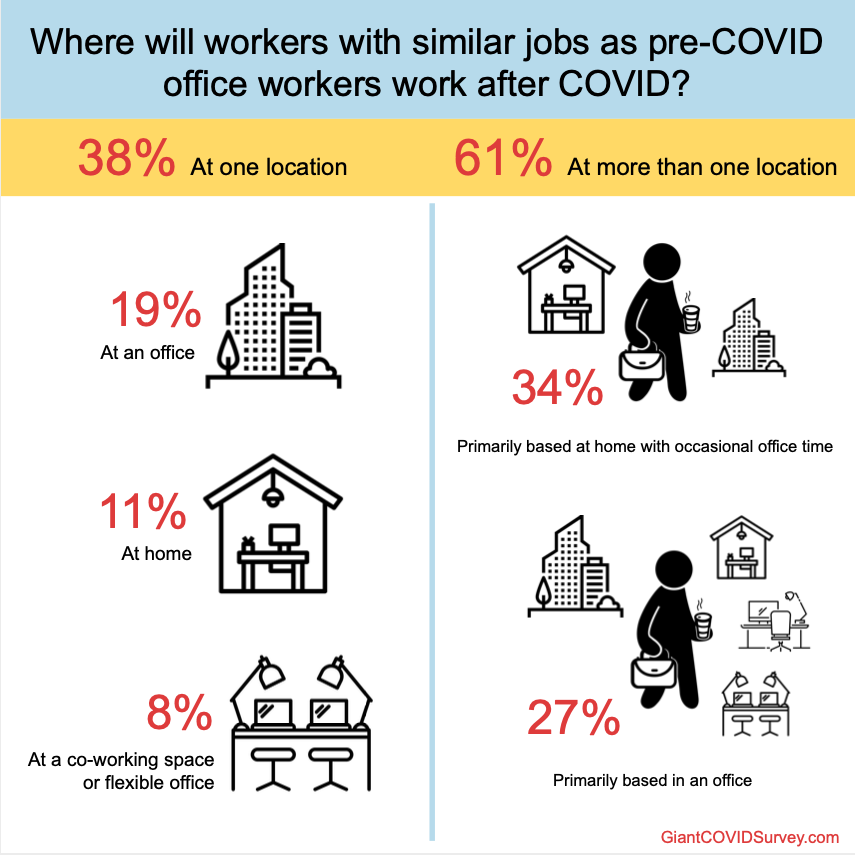 Since the survey, large tech companies Twitter, Facebook, Squarespace, and others have committed to allowing employees to work remotely full-time. Since nearly a fifth of Giant COVID survey respondents work in the tech industry this flexibility in work style may be showing up in their survey responses. 
Is the rush to redesign and reconfigure office spaces all for naught? People may expect more flexibility in their workspaces going forward and balk at the idea of going into a single office every day.
Will COVID cause a migration from cities?
We asked respondents about where they lived in 2019--city, suburbs, or country--and where they spent the most time living since the start of COVID. In 2019, most of our respondents lived in the city, fewer in the suburbs, and fewest in the country. 
We observed a movement out of the city since the start of COVID. While 80% of 2019 city residents remained in the city since the start of COVID, 15% had moved to the suburbs and 5% had moved to the country. It's important to note here that our respondents are largely well-educated millennial tech workers who have more flexibility in how and where they work than the population at large. We would not extrapolate from this data to predict that 20% of all city residents will move to the suburbs or country any time soon. 
Even still, those with the means to move expect that others with the means to move, will. Many respondents expect that this migration out of the city will continue: 45% predicted a noticeable migration out of cities in the next five years.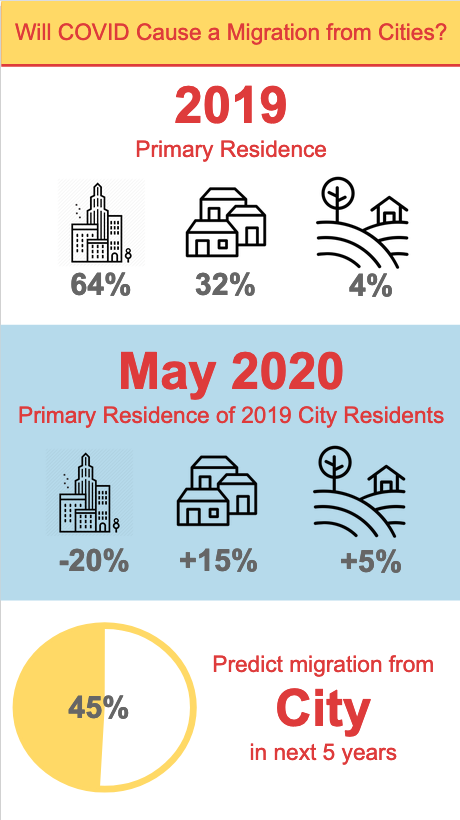 One of the big motivations for moving out of the city might be the desire for more space. We asked respondents whether they planned on moving from their current home before June 2021 and their reasons for the planned move. While most respondents (62%) do not plan on moving in the next year, those who plan on moving are most frequently doing so to get a larger home (25% of those planning to move) or in order to have a backyard or other outdoor space (19% of those planning to move).
For those respondents who rent their homes, by the end of April, most had not changed their lease as a result of COVID (78%), while an equal number extended or shortened their lease as a result of COVID. Given this summer's increased apartment vacancy rates in cities like New York, more people likely re-evaluated their rental situations since the spring.
Changes to public space
Respondents shared what kind of public space they most look forward to visiting after COVID. Our respondents seem to miss eating out -- nearly a quarter reported that restaurants were the public space they most looked forward to visiting. 
We separately asked respondents about how their restaurant visit frequency might change after COVID. The vast majority plan on visiting restaurants again after COVID -- 47% as frequently as before COVID and 38% less frequently than before. Another 13% were not sure whether they would visit restaurants and only 2% did not plan on it. Cities are responding to meet the desire for restaurant use, closing down streets and allowing restaurants to set up socially-distanced tables on the sidewalks and in spots where cars once parked.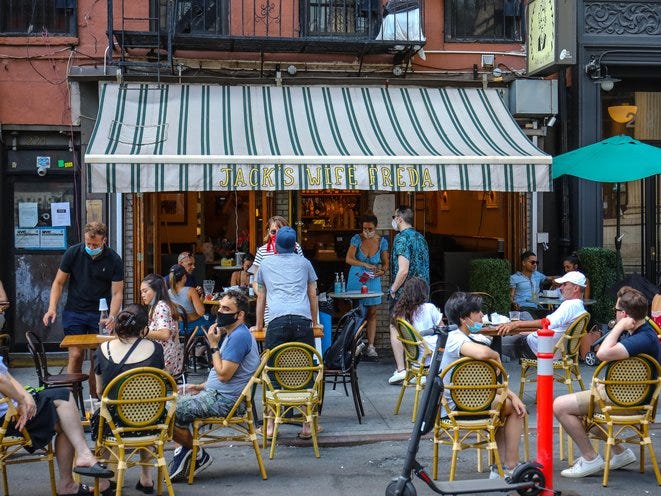 Photo Cred: Gothamist
We expect (and hope) this trend will continue post-COVID. As economist Milton Friedman said, "Nothing is so permanent as a temporary government program."
Apart from restaurants, respondents also frequently looked forward to visiting beaches, bars, gyms, barber shops and hair salons.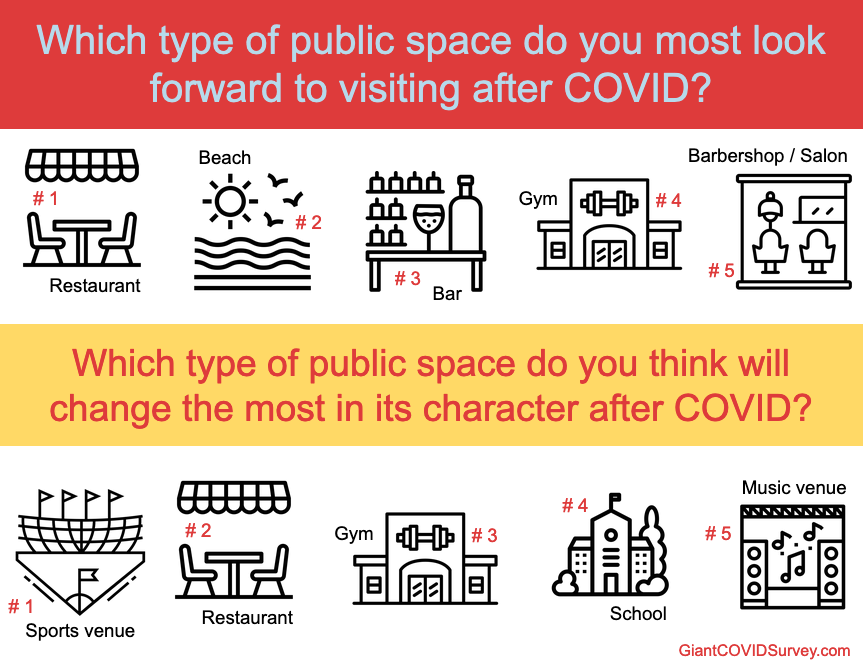 Will public spaces feel the same as they did before COVID or will their character change? We asked respondents to predict what kind of public space would change most in its character after COVID. By far, respondents most frequently predicted that sports venues would change in their character. Next were the much-missed restaurants and gyms, followed by schools and music venues. Live event venues, such as sports and music are the only spaces that have not opened up for visitors in the U.S.. Will these venues 'wait out' the need to adjust the design or will the redesign be more critical than ever when they do reopen?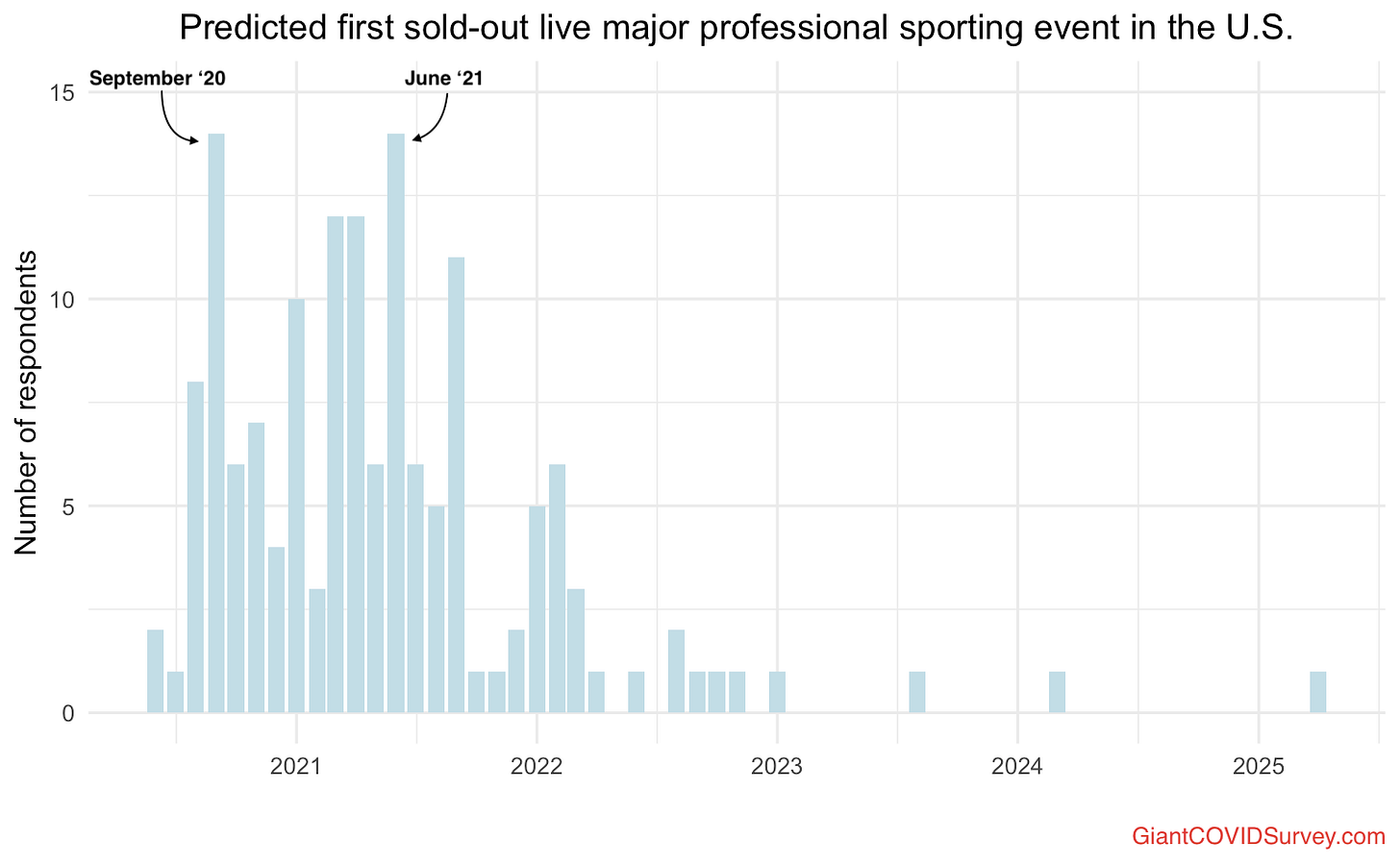 Interestingly, back in April and May, respondents were more hopeful about sports restarting than the results of the reopening through July 2020. We asked survey takers to predict when they thought the first sold-out live major professional sporting event would take place in the U.S. Some people predicted sold-out events as early as June and July 2020 (the NBA is starting in a fanless bubble at the end of this month), while the two most common dates for the prediction were  September 2020 and June 2021. Most others predicted within that time frame, but only time will tell. 
Changes to transportation
How will COVID change car ownership and car sharing? Respondents predicted that the most likely consequences will be that more people will own or lease individual cars (35%) and that fewer people will take part in car sharing (34%).
Respondents seem to have predicted correctly. From March 1 through July 1, new car sales in New York have risen by 232%. Of note, it seems that New Yorkers are especially partial to German manufacturers Volkswagen and BMW.
Public transportation users plan on getting back on the subway and bus once the risk from COVID passes: 87% of respondents who used public transportation before COVID plan on using it again after COVID. But there may be less people in cities with access to public transportation for this to reflect in ridership. In most cities, this has yet to be tested, since most city residents are not moving about the cities quite yet. 
Rounding out transportation, our respondents also correctly predicted the bike boom--with bike sales nearly doubling early into COVID and the U.S. now experiencing a severe bike shortage. More than half of respondents (58%) predicted that more people will ride bikes after COVID, while only a tiny contrarian minority (2%) predicted bike ridership will decrease (the rest predicted no change).
Home spaces
People are spending more time at home than ever. What are the spots in our homes where we've spent more time than we previously thought possible? It turns out these hotspots are the kitchen (22% of responses), the dining room table (19%), and the couch (18%).
As our home workspaces transition from temporary to permanent, at-home employees may be making larger purchases to make this experience more comfortable. 
What changes in the home environment would make working from home easier for those currently doing so? Our respondents' top 8 most commonly desired upgrades were comfortable office furniture -- an ergonomic chair and a standing desk. A separate closed home office and electronic upgrades were also popular. Ambient environmental features, like sunlight and a view outdoors would also make it easier to work from home. Finally, people wanted whiteboards, perhaps an unexpected loss from office life.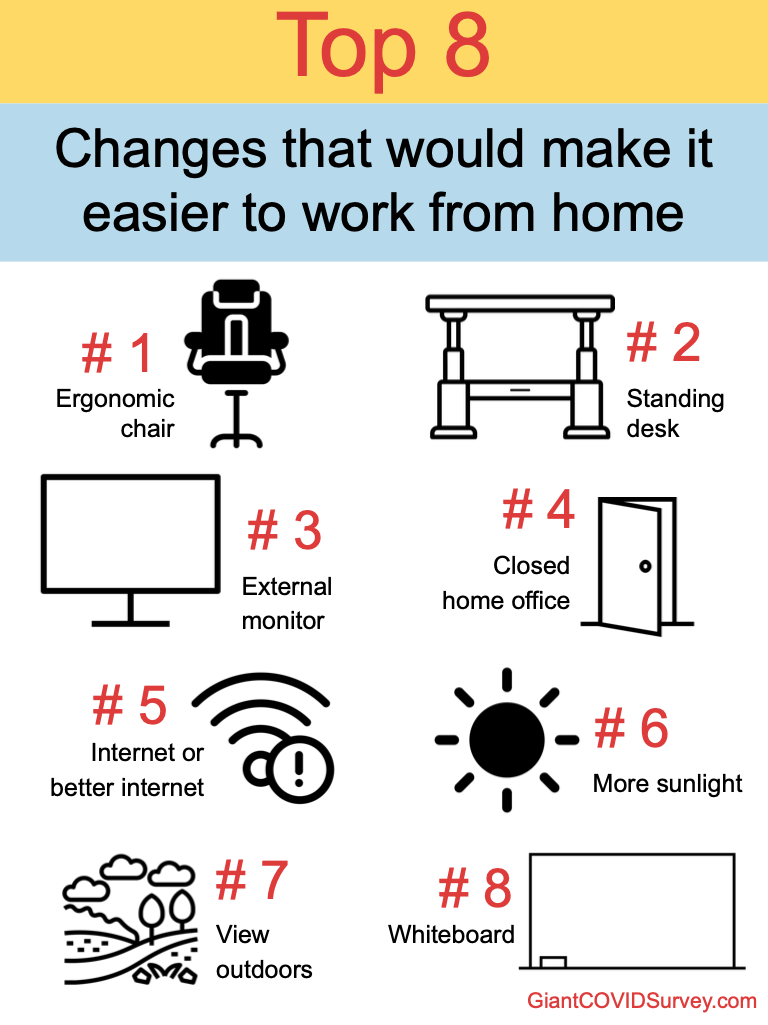 All that extra time at home seems to be highlighting larger needed home improvements. As a result of their experience during COVID, 43% of respondents plan on making changes to their homes. These improvements include creating a dedicated home office, improving filtration and ventilation, upgrading kitchen appliances, rigging up a home gym, installing solar panels, and adding BBQs, plants, and hottubs to outdoor spaces.
In summary
To date, around one in five U.S. adults have moved as a result of COVID. Some of these moves are temporary, but others will be permanent. Within our set of Giant COVID Survey respondents, we observed a migration of city residents to the suburbs and country since the start of COVID. And our respondents predict that a migration out of the city is likely to continue.
When you spend months on end in a small city apartment, large suburban homes and sprawling lawns start to have more appeal. In fact, the biggest reason that people plan on moving in the upcoming year is to live in a larger home or to have more outdoor space. 
What to do with that larger home? Work, for one. Our respondents are anticipating that others like them--well-educated, well-off Millenials working in jobs that allow them to work remotely--are unlikely to return to the office full-time. Instead, former office workers will most likely work across multiple locations, either based primarily at home or primarily in the office. In preparation, survey respondents plan on upgrading their homes, most frequently to create a dedicated home office or to improve the home workspace.
People look forward to returning to public spaces like restaurants, bars, and gyms. But they also anticipate large changes in the character of these public spaces after COVID. While many are counting down the days til the return of sports, large venues, like sports arenas and concert halls will likely change substantially in their character when they re-open.
In addition to changing our built environment, COVID is changing how we work. In our next installment of survey findings, we'll cover what it's like working through COVID and our respondents' predictions for the future of work, and of our economy.  
See you next week!
Anja, Kristen, and Packy